Helpful Tips To Resolve Traffic – Traffic in website is the number of visitors that a web page receives. A website required traffic from different sources to increase visibility and be successful. It is measured by the number of visitors who checked the website. However, this kind of traffic needs profitability to be effective. Search Engine Optimization (SEO) helps a lot to resolve the traffic on websites. Seven simple tips below can help: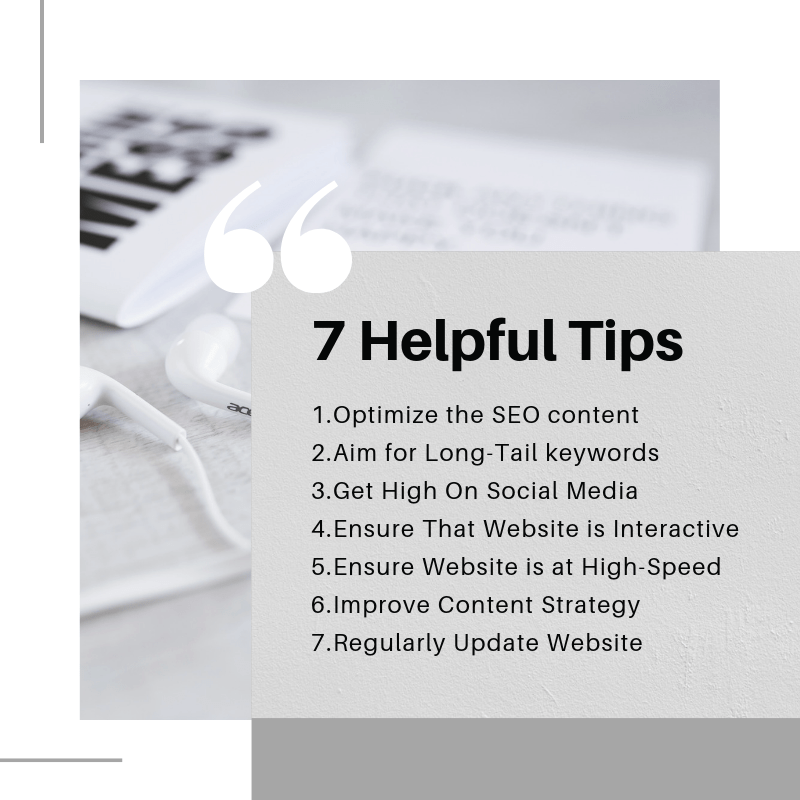 1.Optimize the SEO content
Choose basic keywords or phrases that are in a related to each other in search targets. Write content that people love to read and offer useful information to help Google better understand the words. Optimizing the SEO could help a lot in boosting the organic traffic in your website.
2.Aim for Long-Tail keywords
Long tail keywords are three or four keywords phrases, which are very specific to your products or services. Customers can use a specific search phrase as exactly as what they are actually going to buy. Long tail keywords target specific demographics rather than large audiences and less competitive than generic keywords.
3. Get High On Social Media
Facebook, Twitter, Instagram, LinkIn, Whatsap, these social media apps are now a part of everyone's life. Group discussions, comments, suggestions, and hash tags, you need to participate to these channels to interact a lot with your customers and fans.
4. Ensure That Website is Interactive
Ensure your website is accessible, scroll able, and can be viewed easily to all types of devices including small smartphones because more people are now using mobile phones on internet browsing and accessing to the web. You need a good website designer and developer to properly create and execute this interactive facilities for your website and customers.
5. Ensure Website is at High-Speed
All the best information of your stunning website will be useless if your website is very slow. Customers browsing on the net do not have a lot patience waiting forever to load the site. Either they cancel it or they check other sites. To ensure high speed with better quality hosts, you may check Flywheel, Cloudway, Kinsta, Inmotion, and A2 Hosting.  Faster site loads profits better.
6. Improve Content Strategy
Website needs nice blog post. It gives a lot of opportunities to share thoughts and tips in social media, connects to your customers, and drives more traffic to your site. Your blog is a good opportunity to address probable concerns and questions related to your products and services.
7.Regularly Update Website
Search engines love websites that are updated regularly with fresh contents because it provides more values to your audience and customers. The more keywords you use to your website, the more traffic it generates. Customers prefer to share the latest content and information that they read on websites.